ALBUM OF THE MONTH
FIVE REASONS TO LISTEN:
With Marvin's dynamic 1965-66 output, it's virtually an early "greatest hits" set.
Contains four of Smokey Robinson's prime productions for Marvin, with the electricity of the Miracles' go-to guitarist, Marv Tarplin.
Includes "Your Unchanging Love," the track chosen by Berry Gordy for single release over "I Heard It Through The Grapevine."
Features "You're The One For Me," co-written by Stevie Wonder and produced by his mentor, Clarence Paul.
Marvin turns down the lights with ballads by country music's Willie Nelson, Tin Pan Alley's Harold Arlen and Johnny Mercer, and jazzman Norman Mapp.
FOUR FAST FACTS:
Original release date: 23 May, 1966.
Top 10 on the Billboard R&B charts.
Marvin's eighth solo album.
Six tracks also released as singles.
STORE OFFER:
Go check out the Classic Motown store for some great discounts on Marvin's illustrious catalogue of music, including Moods Of Marvin Gaye LP for only £8/€10/$11. Click here to view offers.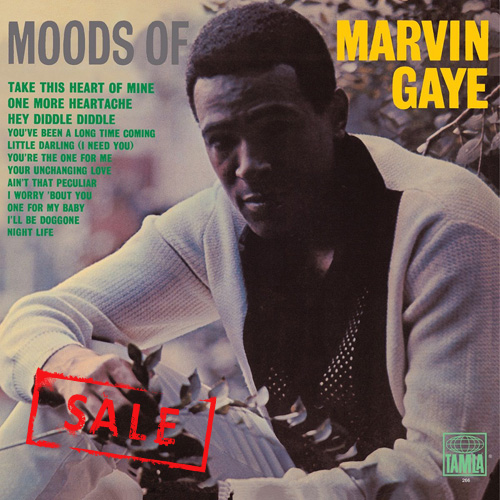 VIDEO:
FULL TRACK LISTING:
DETAIL:
Motown Records rode the charts in 1965 as never before, with Marvin Gaye accounting for three of the company's eleven Top 10 pop hits during the course of the year. He occupied those heights in January with "How Sweet It Is (To Be Loved By You)," the title track of his '64 album, then repeated the trick with "I'll Be Doggone" in May and "Ain't That Peculiar" in November. But success brought stress: he was admitted to Detroit's Kirkwood Hospital in March, suffering from "pulmonary congestion and a certain degree of nervous exhaustion," according to Motown. Gigs were cancelled, including one at Boston's Basin Street South, where Marvin had been booked as a replacement for Sam Cooke, who had died just months earlier.
Marvin's "time out" came after a ten-day run at Detroit's Twenty Grand club, which garnered local press notices to the effect that he was sounding more like a cool club cat than a raucous R&B rooster. The latter style is "of limited appeal," opined Mort Persky in the Detroit Free Press, who evidently preferred the star's Hello Broadway LP, recently released. "It is too early to predict that Marvin Gaye will go on to the popular attainments of Nat Cole," Persky added, "but to speculate on the possibility is interesting, to say the least." Gaye was doubtless pleased, given his well-documented aspiration to be a balladeer, but Berry Gordy was more interested in hit records.
For that, the Motown founder turned to Smokey Robinson. "Marv Tarplin had whipped up an especially nasty riff," wrote Robinson in his autobiography, Inside My Life, referring to the Miracles' resident guitarist. This was "a hot hook that took off the top of my head. I'll be doggone! I thought to myself, mesmerized by Marv's music." Robinson continued: "Went in and cut the song on Dad [his nickname for Gaye] who sang the shit out of it. I loved producing Marvin Gaye. He'd interpret my material like he'd written it himself, improvising and improving the original concept."
Smokey wrote "I'll Be Doggone" with Tarplin and fellow Miracle Pete Moore, cutting it at Hitsville in January 1965, just days after he began recording another of his most accomplished works, "The Tracks Of My Tears," with the Miracles. In America, it was a time of change, success and sorrow. Lyndon Johnson was returning to the White House, but now with his own electoral mandate; sales of the Temptations' "My Girl," another Smokey masterpiece, were lifting that group to new levels of popularity; and the loss of Sam Cooke in December '64 was still being felt in the music industry. The exuberance of "I'll Be Doggone" was well-timed, and the Tamla single, issued February 26, soared swiftly up the pop and R&B best-sellers.
Robinson was not the only one of Motown's creative team to enjoy making hits with Marvin. "He was the first and only artist I had ever worked with who executed the song actually better than how I was giving it to him," said Eddie Holland, co-author of "How Sweet It Is (To Be Loved By You)" with his brother Brian and Lamont Dozier. "Everybody loved Marvin," added Dozier, "but he could be a handful. When he wanted to, [it was] 'Man, I gotta go,' but he was fast and he was creative. He could be so creative when you cut him a little bit out of his range, when he had to go up into falsetto and do different things."
Holland/Dozier/Holland were responsible for three songs on Moods Of Marvin Gaye: "You've Been A Long Time Coming," "Your Unchanging Love" and "Little Darling (I Need You)," The first two were cut in January 1965, while the last was completed in May. "You've Been A Long Time Coming" was originally considered for the Supremes, then swiftly assigned to Marvin, who cut his vocal on Inauguration Day, January 20. "Little Darling (I Need You)" was the first of the H/D/H triple to be released as a single, although that was more than a year after the recording session. It reached the Top 10 of the R&B best-sellers, although it struggled on the pop charts.
Shortly after cutting "Little Darling (I Need You)," Marvin laid down vocals for "Ain't That Peculiar" with Smokey. The song was written by Robinson, Marv Tarplin – whose electrifying fretwork again opens the track – and Pete Moore and Bobby Rogers of the Miracles. Tarplin came up with the melody while on the road in the U.K. with the group, and said it was influenced by Bill Doggett's 1956 instrumental, "Honky Tonk." As for Marvin, he told Sharon Davis, author of I Heard It Through The Grapevine, "I was writing some songs, but I didn't have a great deal of confidence in my pen. Smokey saved me during a period when I needed some records."
"One More Heartache" was the last song on Moods Of Marvin Gaye produced by Smokey in 1965. It was anchored by another of Marv Tarplin's propulsive riffs, netting him a writing credit alongside all four male members of the Miracles. When released as a single, the result was a Top 5 R&B hit early in '66, followed by another Robinson/Moore/Tarplin tune as a 45, "Take This Heart Of Mine."
"Hey Diddle Diddle" was co-written by Marvin, together with Harvey Fuqua, his mentor, and Fuqua associate Johnny Bristol. Recorded in March 1966, it appeared first on the LP, then as the flipside of "Little Darling (I Need You)" later. "Being in the studio with Harvey Fuqua and Johnny Bristol was a phenomenal experience when they were backing others or singing on their own productions," recalled Marlene Barrow-Tate of the Andantes in the studio queens' biography, Motown From The Background. "Harvey, Johnny and Marvin Gaye were like the Three Musketeers." She added, "Harvey was like a father figure you could trust. He'd been out there for a long time and he knew who to trust. They were just beautiful people and good guys."
1966 was to prove even more demanding for Marvin than the year before; his growing popularity was accompanied by plenty of media attention. News that he was to play New York's Copacabana in August became public eight months before the shows. "I know I'll be scared stiff," he admitted in January. "Whenever I get up there in front of audience, I'm frightened. I never seem to get over it." But when August rolled around, the singer was rehearsed and ready. Even so, Berry Gordy had his doubts. "He said there were too many ballads," recalled Harvey Fuqua when Marvin Gaye At The Copa was finally released in 2005. "Yet that was the singer Marvin wanted to be."
You can hear the singer Marvin wanted to be on three tracks on Moods Of Marvin Gaye. He laid down "Night Life" in New York with producer Bobby Scott. The atmospheric ballad was written by country music's Willie Nelson around 1960, and subsequently recorded by Ray Price, Doris Day, B. B. King and Frank Sinatra as well as Gaye. Sinatra also cut "One For My Baby (And One For The Road)" before Marvin, and that influence shows here. "I Worry 'Bout You" displays similar leanings: it was the work of singer/songwriter Norman Mapp, remembered for his 1961 album, Jazz Ain't Nothin' But Soul. Harvey Fuqua produced Gaye's version in Detroit, as he did "One For My Baby."
In 1967, it was said to be a challenge to get Marvin into the recording studio, and so during one of Motown's weekly product evaluation meetings chaired by Berry Gordy, "Your Unchanging Love" – recorded more than a year earlier – came up for consideration as a single release. At the same gathering, producer Norman Whitfield brought in Marvin's recently completed "I Heard It Through The Grapevine." Gordy would usually "give the benefit of the doubt to the person who was hot with a particular artist," said Whitfield some years later, "or give them the edge if it was a very close vote. But the vote wasn't close at all. Matter of fact, it was something like 37 to 3 in favor of 'I Heard It Through The Grapevine.' " Nonetheless, the Motown boss preferred "Your Unchanging Love" from Holland/Dozier/Holland, who had also made Gaye's previous 45, "Little Darling (I Need You)." Whitfield went on, "It was like I came up with this mystical, magical thing out of nowhere, and it was like, 'Well, do we nourish the up-and-coming guy or do we continue to deal with our blue-chip people?' " When issued in June '67, "Your Unchanging Love" was a modest success: Top 10 R&B and Top 40 on the pop charts. When "Grapevine" was finally released as a single in October '68, it ruled the world.
JUST SAYIN':
"Every artist had their own notion of how to reach the top. Marvin Gaye was one who always wanted to prove he could do things his way. Knowing how much that meant to him, I always tried to give him some space" – Berry Gordy in his autobiography, To Be Loved.
VOTE FOR YOUR FAVORITE TRACK ON THE ALBUM:
Producers: Johnny Bristol, Lamont Dozier, Harvey Fuqua, Brian Holland, Warren "Pete" Moore, Clarence Paul, William "Smokey" Robinson, Bobby Scott.
Songwriters: Harold Arlen, Walter Breeland, Johnny Bristol, Morris Broadnax, Paul Buskirk, Lamont Dozier, Harvey Fuqua, Brian Holland, Edward Holland Jr., Norman Mapp, Johnny Mercer, Warren "Pete" Moore, Willie Nelson, Clarence Paul, William "Smokey" Robinson, Robert Rogers, Marv Tarplin, Stevie Wonder.
Pre-makes: "I Worry 'Bout You" (Norman Mapp, 1961), "Night Life" (Ray Price, 1959; Doris Day, 1964; Willie Nelson, 1965; B. B. King, 1966; Aretha Franklin, 1967; Luther Allison, 1976; Reba McIntire, 1989; Johnny Cash & Willie Nelson, 1998; Cyndi Lauper & Willie Nelson, 2016), "One For My Baby (And One More For The Road)" (Fred Astaire, 1943; Lena Horne, 1945; Frank Sinatra, 1947; Tony Bennett, 1957; Billie Holiday, 1958; Frank Sinatra, 1962; Chuck Berry, 1966; Frank Sinatra & Kenny G, 1993; Iggy Pop, 1995; Hugh Laurie, 2013),
Re-makes: "Ain't That Peculiar" (Quincy Jones, 1965; George Benson, 1966; Dennis Edwards, 1967; Ramsey Lewis, 1969; Rita Coolidge, 1971; Jermaine Jackson, 1972; the Jackson 5, 1973; Jose Feliciano, 1975; Rufus & Chaka Khan, 1983; Southside Johnny, 1988; Aaron Neville, 2006; Phil Collins, 2010; Smokey Robinson & James Taylor, 2014), "Hey Diddle Diddle" (the Ballads, 1968), "I'll Be Doggone" (the Searchers, 1965; Diana Ross & the Supremes and the Temptations, 1969; Solomon Burke, 1969; Bob Weir, 1978), "Little Darling (I Need You)" (the Doobie Brothers, 1977), "One More Heartache" (the Butterfield Blues Band, 1968; Jim Gilstrap, 1975; Rita Coolidge, 1981; Robert Gordon, 1991).