Motown's popularity in Britain has been consistent for more than five decades. This month marks the anniversary of the first Motown release in the U.K. by EMI Records, which went on to become a vital international business partner for the American company through the 1960s and '70s.
That landmark release was Martha & the Vandellas' "Heat Wave," which appeared on EMI's now-legendary Stateside label in early October 1963. The single was already in the Top 10 of the Billboard Hot 100 when it was made available in Britain. Previously, Motown records were issued there by a small independent, Oriole Records.
"First disc under the new Tamla/EMI deal is this big U.S.A. hit," noted British music trade paper Record Retailer, reviewing "Heat Wave" in its issue of October 10, 1963. "It's a femme-lead R&B number with loads of good punchy instrumental work before the vocal." The reviewer added, "Watch for steady sales."
On Stateside, singles by Little Stevie Wonder, Mary Wells, Marvin Gaye, the Supremes and the Temptations followed "Heat Wave," while Motown's first British hits came in 1964 with Mary Wells' "My Guy" and the Supremes' "Where Did Our Love Go." Motown artists were also featured on a number of four-track vinyl EPs (extended play) released on Stateside. Then, Motown achieved its own identity in the U.K. with the launch in March 1965 of the Tamla Motown label through EMI.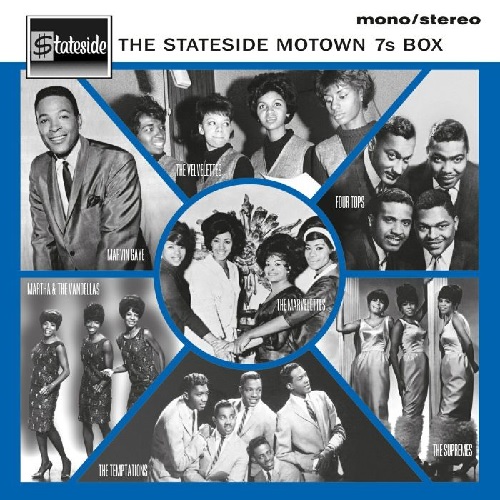 A cross-section of Motown tracks first released in the U.K. by EMI is available in The Stateside Motown 7s Box, containing seven vinyl singles. The artists featured include the Supremes, Martha & the Vandellas, the Temptations, the Four Tops and the Velvelettes. Also available are two volumes of The Early Motown EPs on vinyl, featuring those artists and more, including the Miracles, Little Stevie Wonder, Kim Weston, Eddie Holland, Brenda Holloway and the Contours.
Both box sets are currently on sale in our Classic Motown store, click here to view the offers.