ARTIST OF THE MONTH
Let's call it "Hotter Than July," because that's how Stevie will raise temperatures in London when he takes his celebrated "Songs In The Key of Life" roadshow abroad for the first time.  Listen here to that peerless album, get news updates about the superstar, test your knowledge of his career, and vote for your favorite song of Stevie's life.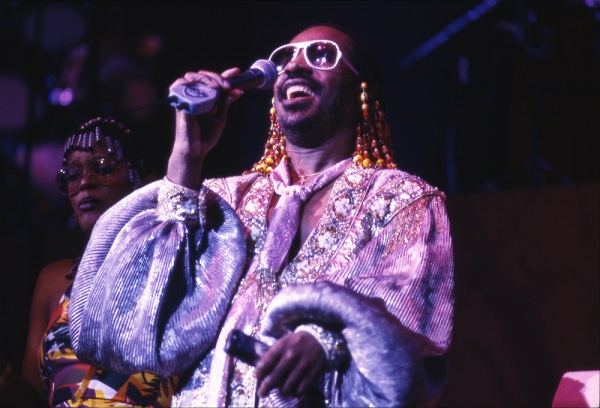 KEY INFORMATION:
This year marks the 40th anniversary of Songs In The Key of Life, which was released as a 21-song set (on two LPs and a 4-track EP) in September 1976. While there was no "Songs In The Key of Life" tour at the time, Stevie featured material from the album in his concerts from that point on, particularly such No. 1 hits as "I Wish" and "Sir Duke." Memorably, he sang the opening track, "Love's In Need Of Love Today," during the TV special, America: A Tribute to Heroes, in the wake of the 9/11 tragedies. Then approximately 18 months ago, Stevie began playing the entire album on tour across the U.S., and it's this set which he is performing July 10 at London's Hyde Park. Tickets for the open-air show swiftly sold out. Artists added to the bill include "Happy" hitmaker Pharrell Williams, Grammy®-winning British singer/songwriter Corrine Bailey Rae, and Los Angeles-based "nu-soul" trio King.
Stevie has earned a reputation over many years for collaborating with other singers and musicians, whether as a songwriter, producer or guest on record. They include fellow Motown artists Syreeta, the Four Tops, the Spinners, Jermaine Jackson and Smokey Robinson & the Miracles, as well as B.B. King, LaBelle, Rufus, Minnie Riperton, Roberta Flack, Third World, George Benson, Neil Diamond, Lionel Hampton, Quincy Jones and many more. Stevie's last album, A Time 2 Love, featured guest appearances by India.Arie, Paul McCartney, Bonnie Raitt and Prince. In May this year, Stevie was among those who paid tribute to Prince shortly after his death, performing "Purple Rain" during a special concert in Los Angeles.
Among newer talents blessed by Stevie is soul/jazz singer Andra Day, whose debut album, Cheers To The Fall, came out last August and was subsequently Grammy®-nominated. Over Christmas, she appeared with Wonder in a widely-seen TV commercial for Apple, singing his 1967 holiday song, "Someday At Christmas." His harmonica also makes a sampled appearance in Andra's song, "City Burns," from Cheers To The Fall. Meanwhile, TV producers continue to feature Stevie's songs in all manner of programs, including episodes of Scandal, Quantico, Vinyl and Empire. And the recent season finale of The Muppets included the White Stripes' Jack White performing "You Are The Sunshine Of My Life" with Kermit the Frog.
The month of May is always significant for Stevie, not least because the musician celebrates his birthday on May 13. As Little Stevie Wonder, his first single for Motown Records was released in May 1962, entitled, "I Call It Pretty Music But The Old People Call It The Blues." The following May, "Fingertips," his first No. 1, was issued, while the first 45 to drop the "Little" from his name, "Hey Harmonica Man," appeared in May 1964. But perhaps the most significant May was in 1971: Stevie turned 21 and adulthood enabled him to cut a new deal with Motown for unprecedented creative freedom. From there began the extraordinary sequence of albums – beginning with Music Of My Mind – which blessed Stevie with success, influence and recognition as one of the greatest musicians of the 20th century.
During a career of such longevity, there are milestones every month. In June of 1972, for example, Stevie joined the Rolling Stones' North American summer tour, supporting the band on their 50-date itinerary. This is widely credited with bringing Stevie to a wider audience than ever, and setting the stage for his phenomenal popularity. The Stones were already partial to Motown, having cut versions of a couple of Marvin Gaye hits ("Can I Get A Witness," "Hitch Hike") and the Temptations' "My Girl" in the 1960s. When the band's tour with Stevie was over, there were trade-press reports of a live album featuring both acts, although nothing was subsequently released. In 1975, the Stones recorded Stevie's own "I Don't Know Why."
Stevie's social conscience is praised almost as much as his music, particularly his vital role in the campaign supporting a Federal holiday for the birthday of the late Dr. Martin Luther King, which was signed into law in 1983. More recently, he made an appearance in Flint, Michigan, to help raise funds for residents affected by the city's water crisis. Lead poisoning was detected in the area's water supplies in 2014, eventually leading to relief efforts by civil authorities. Stevie sang "Love's In Need Of Love Today" and "Higher Ground" during a "Justice for Flint" concert this past February at the city's Whiting Auditorium, which featured Jonelle Monáe and Musiq Soulchild, among others.
IN HIS OWN WORDS:
"Even with the technology today, you have to have a feel for the groove. And that comes from within."
IN BERRY GORDY'S WORDS:
"Stevie was one of the main activists behind the campaign to establish Dr. King's birthday as a national holiday. That made us all proud."
ITUNES:
Stevie is also this month's iTunes Motown Artist of the Month, so go check out the Motown room on store or click here for some great discounts on Stevie's incredible albums.
WHAT'S YOUR FAVORITE STEVIE WONDER TRACK?

QUIZ: