Motown became of age because of the Miracles. The extraordinary talent of leader Smokey Robinson inspired and influenced Berry Gordy's ambitions. From the beginning, the group was Motown's center of gravity. To this day, their hits help to define its achievements and its history: "Shop Around," "You've Really Got A Hold On Me," "The Tracks Of My Tears," "I Second That Emotion," "The Tears Of A Clown." It's hard – impossible, perhaps – to imagine popular music without Smokey Robinson & the Miracles.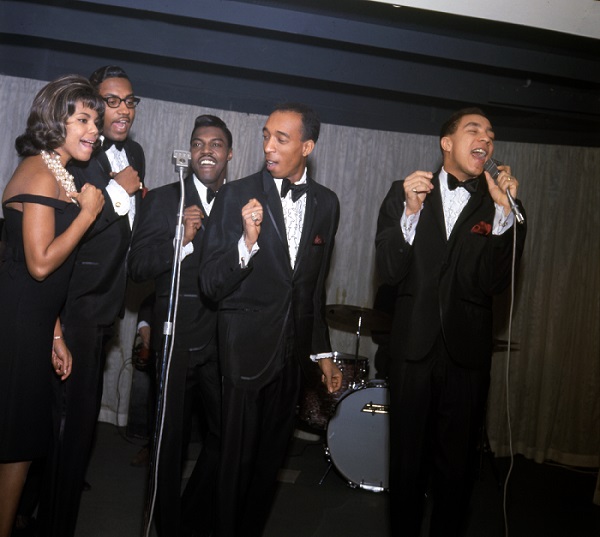 FAST FACTS:
First Hit: "Shop Around"
Biggest Hit: "The Tears of a Clown"
Top Album: Going To A Go-Go
Career Highlight: Smokey's lifelong friendship with Berry Gordy
KEY INFORMATION:
At Detroit's Northern High School in 1955, a group called the Matadors comes together. Soon, word of their heaven-sent talent gets around. "With me singing lead," William "Smokey" Robinson tells biographer David Ritz, "Claudette on top, Bobby's tenor under her, Ronnie's baritone and Pete's bass on bottom." For the record, that's Claudette Rogers, Bobby Rogers, Ronnie White and Warren (Pete) Moore. In time, Claudette becomes Mrs. Robinson. "I felt good about our blend," adds Smokey.
In the summer of 1957, the Matadors – and Smokey's songs – attract the attention of Berry Gordy at an audition held by the manager of R&B star Jackie Wilson. A writer himself, Gordy is drawn to Robinson's promise. He signs the group for management, and produces their first 45, "Got A Job," early in '58, leasing it to a New York label. The Matadors are now the Miracles, and a career is taking shape.
The Miracles' golden era begins with "Shop Around," composed by Berry and Smokey. The advice-laden anthem reaches No. 1 on the R&B charts, and crosses to No. 2 on the Billboard Hot 100 – Motown's biggest pop hit to date. Its flipside resonates, too: "Who's Lovin' You," a future staple for the Jackson 5 and others.
More remarkable Robinson songs spread his group's popularity, including "What's So Good About Good Bye" and "I'll Try Something New," and he earns experience and epaulets as a producer. Meanwhile, he and the Miracles tear up the concert circuit, headlining the Motortown Revue, then capture their second Top 10 pop success, "You've Really Got A Hold On Me," in February 1963. This one grabs the attention of another young band: the Beatles cover the song on their second album, and start talking about their admiration for Motown.
The Miracles hits keep coming: "Mickey's Monkey," "That's What Love Is Made Of," "Ooo Baby Baby" and the 1965 release which forever defines Smokey as one of America's finest songwriters, "The Tracks Of My Tears." (Little wonder it is later inducted into the Grammy® Hall of Fame and the Rock & Roll Hall of Fame.) Claudette Robinson retires from performing, although she continues to record with the group. Another towering success is "Going To A Go-Go," followed in 1967 by "The Love I Saw In You Is Just A Mirage," the first release with new billing: Smokey Robinson & the Miracles. Co-author of the song is their longtime guitarist, Marv Tarplin, on whose riff "The Tracks Of My Tears" was constructed.
Smokey's prowess as a writer for other Motown acts – Mary Wells, the Temptations, Marvin Gaye – is polished anew with a pair of Marvelettes gems, "Don't Mess With Bill" and "The Hunter Gets Captured By The Game," while "I Second That Emotion" is Top 5 for the Miracles in December '67. Co-written with Al Cleveland, it's their biggest crossover accomplishment since "Shop Around." Al is an asset, who pens with Smokey seven of the quartet's next eight singles, including "Baby Baby Don't Cry," yet another Top 10 tune.
In 1970, "The Tears Of A Clown" becomes Smokey Robinson & the Miracles' first and only No. 1 on the pop charts. It begins life as an instrumental track created by Stevie Wonder, then Smokey pens a lyric to match the circus feel of the music. "Everybody loves him as Pagliacci the clown," he explains, "but he doesn't have someone who loves him as man." The result is included in the Miracles' 1967 album, Make It Happen, then – three years later – Motown's U.K. office picks it for single release. The record explodes, first in Britain, then in America.
The triumph of "The Tears Of A Clown" delays Smokey's planned departure from the Miracles. He is tired of the road, wants to spend more time with Claudette, and is drawn to a solo career, focusing first on making records for others. In January 1972, Smokey declares his intention to leave after a summer farewell tour with the group. The curtain falls in Washington, D.C., where the shows are recorded for a live album, 1957-1972, celebrating the extraordinary legacy of Smokey Robinson & the Miracles.
A new William from Detroit – Billy Griffin – steps into the Robinson role, and the Miracles gain their first post-Smokey chart success with 1973's "Don't Let It End ('Til You Let It Begin)." It is co-authored by Freddie Perren, a veteran of Jackson 5 hits, who then delivers the "new" Miracles' first Top 20 track on the pop charts, "Do It Baby." They scale greater heights with "Love Machine," a dance-driven No. 1 in 1975, and a well-regarded concept album, City Of Angels. Even Smoke-free, the Miracles live up to their name.
In 1983, Smokey reunites with his band mates for the Motown 25 TV extravaganza. Four years later, he is recognized with a place in the Rock & Roll Hall of Fame. In 2012, the honor is bestowed upon his fellow Miracles. On that occasion, the star who inducts them is…Smokey Robinson. It's sweet harmony.
The classic Miracles repertoire flows effortlessly into the 21st century. In recent years, fresh interpretations of their hits have been recorded by artists ranging from Boyzone to Human Nature, from Rod Stewart to Seal, from Bryan Adams to Lenny Kravitz. And Motown The Musical continues to bring these songs to audiences across America and in London's West End. The Miracles are never-ending.