The heart of the machine: H/D/H (as they are often known) were songwriters, producers, magicians. They shaped "the Sound of Young America" and skyrocketed Motown into the stratosphere with hits – no, popular music milestones – for the Supremes, the Four Tops, Martha & the Vandellas, Marvin Gaye, the Miracles, Jr. Walker & the All Stars and more. Their work endures, both in the original recordings and the many remakes by others, as part of the Great American Songbook.
FAST FACTS:
It's 1957, and during a year in which Berry Gordy first meets Smokey Robinson, he also becomes acquainted with Eddie Holland. While in high school, Eddie (born in Detroit, October 30, 1939) wants to be an accountant – until he realizes the earning potential of popular singers. Blessed with a good voice, he auditions for a local talent manager. The latter directs him to Gordy, who is making a name for himself writing material for Jackie Wilson. Berry recognizes Holland's vocal similarity to Wilson, and recruits him to sing demos of his songs. Soon, Eddie brings music-minded brother Brian (born in Detroit, February 15, 1941) into the Gordy circle.
Another son of Detroit, Lamont Dozier (born June 16, 1941) is striving for success as part of a vocal group, the Romeos. They record "Fine, Fine Baby" for the local Fox label, which is picked up by Atlantic Records for national release in 1958. That same year, Eddie Holland debuts on Mercury Records with "You (You You You You)," co-written by Gordy. Also released in '58 is "(Where's The Joy?) Nature Boy" on Detroit's Kudo label; the artist is billed as Briant Holland, but it's said to feature the voice of Eddie. The brothers continue to gain music industry experience, and in early 1959, Eddie's "Merry-Go-Round" becomes the second 45 to be released on Tamla Records.
In 1961, Eddie's "Jamie" becomes a Top 30 pop hit, while Brian works with another early Gordy recruit, Robert Bateman. Known as "Brianbert," the pair writes and produces several hits, including the Marvelettes' No. 1, "Please Mr. Postman." When Bateman quits the company, he suggests that Brian teams up to compose with Lamont Dozier, newly signed to Gordy's roster. Then Eddie suggests to Brian and Lamont that they would be more prolific with him on the team, particularly with lyric writing. And so the first Holland/Dozier/Holland collaboration is "Dearest One," recorded by Lamont and released in June 1962 on Motown's Mel-O-Dy subsidiary.
H/D/H step up the pace. In 1963, they create hits for the Marvelettes ("Locking Up My Heart"), the Miracles ("Mickey's Monkey"), Mary Wells ("You Lost The Sweetest Boy") and Marvin Gaye ("Can I Get A Witness"), while achieving their first Top 10 pop success with Martha & the Vandellas' "Heat Wave." They also deliver the Supremes' top-selling hit to date, "When The Lovelight Starts Shining Through His Eyes." The artists retain their individual vocal identities, but Holland/Dozier/Holland pour the same high-octane fuel into every tank: a bedrock bass line; an emphatic, metallic beat, accentuated by tambourines; pounding percussion and piano tracks; growling saxes; and female backup vocals in the classic call-and-response of gospel performances. In songwriting, each of H/D/H contributes to the magic with melodies, lyrics, inspiration and determination. In the studio, Brian and Lamont handle production.
In 1964, the team takes Motown to new commercial heights as "Where Did Our Love Go" becomes the Supremes' first No. 1, and the first of their five consecutive chart-toppers. Those which follow: "Baby Love," "Come See About Me," "Stop! In The Name Of Love" and "Back In My Arms Again." Eddie, Brian and Lamont sustain the momentum in '65 with hits for Marvin Gaye, Martha & the Vandellas and the Four Tops. In December, Berry Gordy appoints Brian as Motown's vice president of creative evaluation; five months later, Eddie is named head of the A&R department.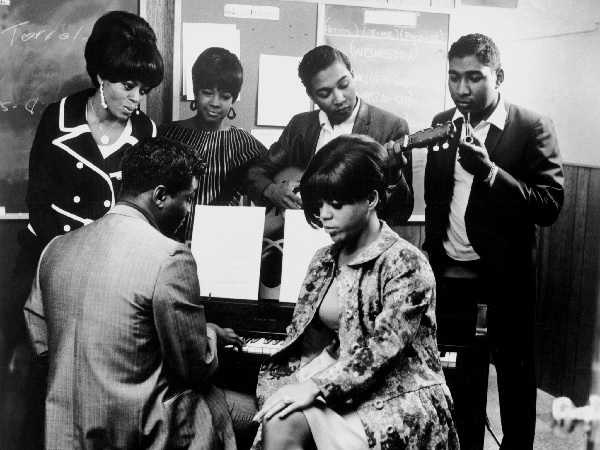 During 1966 and into '67, H/D/H cut three more No. 1 triumphs for the Supremes ("You Can't Hurry Love," "You Keep Me Hangin' On," "Love Is Here And Now You're Gone") and three towering hits for the Four Tops ("Reach Out I'll Be There," "Standing In The Shadows Of Love," "Bernadette"). These records come to epitomize the threesome's creativity, imagination and commercial savvy. They motivate others, too: one of their studio protégés is R. Dean Taylor. With them, he co-writes "I'll Turn To Stone" and "There's A Ghost In My House." The latter becomes a Top 3 British hit for Taylor as a singer in 1974.
All things must pass: the Holland/Dozier/Holland relationship with Motown turns sour, and in 1968 the trio leaves amid recriminations and lawsuits. The next year, they form their own Detroit-based Invictus and Hot Wax labels, scoring major hits with the likes of Freda Payne, Chairmen of the Board and the Honey Cone. In 1973, Lamont embarks on a successful solo career, but after a few years, all three are once more making records with Motown artists: the Hollands with the Jackson 5, Michael Jackson and the Supremes, among others, while Dozier produces the Originals. In 1983, the Four Tops re-sign to Motown, and H/D/H reunite to produce their album, Back Where I Belong.
In 1988, Holland/Dozier/Holland are inducted into the Songwriters Hall of Fame, and into the Rock & Roll Hall of Fame two years later. In 2009, they receive the Johnny Mercer Award from the Songwriters Hall of Fame, while in 2015, they are recognized with a star on the Hollywood Walk of Fame. Helping them to celebrate that honor on the day is Berry Gordy himself.