From a different Motor City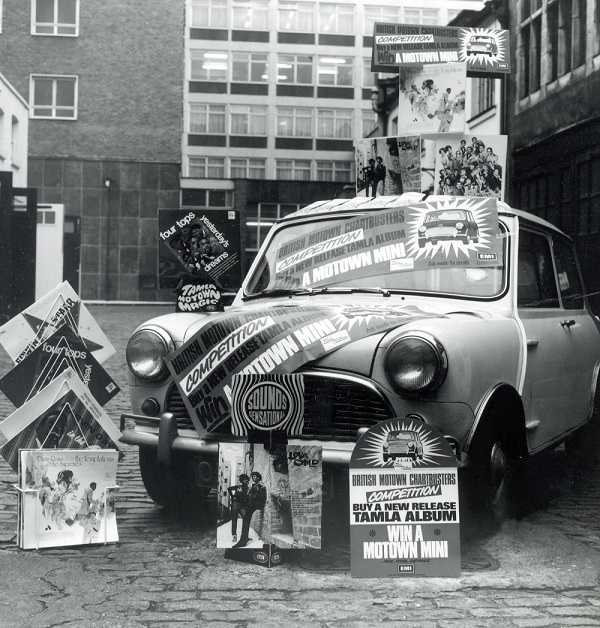 The Motown Mini, awaiting its prize-winning owner
To promote Tamla Motown's newest album releases in the U.K. during January and February 1969, EMI Records launched a competition with a British Motor Corporation Mini DeLuxe as the first prize. To qualify, contestants were obliged to buy one of those new releases, and to compile a British Motown Chartbusters LP. As the competition was running, the second volume in the album series was in the U.K. Top 10, containing hits by the Temptations, Martha Reeves & the Vandellas, Marvin Gaye & Tammi Terrell, Jimmy Ruffin, Stevie Wonder, Diana Ross & the Supremes, the Four Tops and R. Dean Taylor, among others.
Motown had enjoyed a prosperous 1968 in Britain, its strongest market outside the U.S. The hit factory opened the year with a Top 3 U.K. chart rating for the Four Tops' "Walk Away Renee," and closed it with an eight-week Top 10 run for the Isley Brothers' "This Old Heart Of Mine (Is Weak For You)," the reissue of a single first released two years earlier. In addition, Greatest Hits collections by the Four Tops and Diana Ross & the Supremes were among the biggest-selling albums in the country in '68.
The "Buy a new Tamla album/Win a Motown Mini" competition was designed to keep up the sales momentum. The car came with built-in radio and tape machine – the latter was quite an attraction at the time – and there were 20 consolation prizes of five Tamla Motown LPs of the winners' choice. Contestants received an entry form when they bought one (or more) of the January/February Tamla Motown releases. These included albums by the Four Tops, the Marvelettes, Stevie Wonder, Diana Ross & the Supremes, and Marvin Gaye. To compile the British Motown Chartbusters album, contestants had to pick 12 tracks from a choice of 20.
The winner turned out to be Bert Smart from Rayleigh, Essex. Not only did he drive away with the Motown Mini that March, but he also got to meet Stevie Wonder, who attended an EMI Records reception in London to make the presentation. There was even a prize of a portable TV set for the retailer who sold Bert the LP which qualified him for the contest. That lucky record dealer was the late Ken Whitmarsh of HMV's Oxford Street store in central London. Stevie made the prize presentation to Ken, too. Unfortunately, the list of 12 chartbusting Tamla Motown tracks which netted the Mini for the appropriately-named Mr. Smart are lost to the mists of time.
Bert won a Mini DeLuxe, but eagle-eyed members of a British online forum for the Mini Cooper noted that the photograph which EMI used to promote the contest (as featured here) actually shows a Austin Mk2 Cooper S – a different model. Rather like saying that Stevie Wonder's records were released on Motown, perhaps, when his original label outlet was Tamla.