Still Tempting! The group lauded in 2017 by Billboard as the Number One R&B Artist of All Time continues this legacy with the worldwide release May 4 of their first album in eight years. All The Time features inspired renditions of contemporary songs and original material, further extending the Temptations' timeline into the 21st century. Their legacy is one of the defining achievements of Motown Records: the quintet has thirty-seven Top 40 hits to their credit, including fifteen Top 10 tunes and four which soared to Number One. On the R&B charts, the Temptations have seventeen Number One albums, and forty-three – count 'em, forty-three – Top 10 hit songs. The titles alone summon memories beyond measure, including "My Girl," "Ain't Too Proud To Beg," "I Wish It Would Rain," "Cloud Nine," "Just My Imagination (Running Away With Me)" and "Papa Was A Rollin' Stone." A brand new musical, Ain't Too Proud, is this year showcasing the Temptations' story, but for always, they are sunshine on a cloudy day.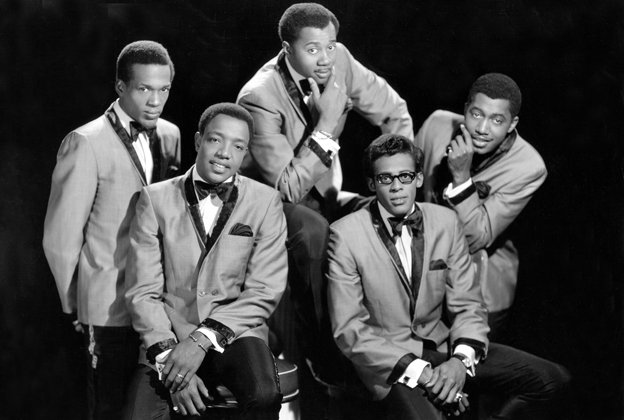 FAST FACTS:
First hit: "The Way You Do The Things You Do"
Biggest hit: "My Girl"
Top album: All Directions
Career highlight: A vocal-group "brand" and reputation which has lasted for more than half a century…and counting.
KEY INFORMATION:
The Temptations are born in the late 1950s out of two Detroit-based vocal harmony combines: the Primes, a trio which includes Eddie Kendricks and Paul Williams, and the Distants, a quintet whose members include Otis Williams, Melvin Franklin and Elbridge "Al" Bryant. Soon, these five come together as the Temptations, signing with Motown Records in 1961. Their debut release, with Eddie on lead, is written and produced by Berry Gordy: "Dream Come True," which is also the first release on the Gordy label, touches the R&B charts, momentarily.
The famous five's career ignites in a flash of radio, television, concert and chart ubiquity, underpinned by hits such as "Get Ready," "Ain't Too Proud To Beg," "(I Know) I'm Losing You" and "I Wish It Would Rain," and albums like Gettin' Ready, With A Lot O' Soul, Wish It Would Rain and In A Mellow Mood.
After Smokey, Norman Whitfield becomes the Temptations' primary producer, and he blesses them with a new urgency when David Ruffin – cursed by an ego which finally compels the group to fire him – is succeeded by Dennis Edwards. The new recruit's rough, tough vocal style is showcased in "Cloud Nine," a psychedelic Top 10 single influenced by the rock 'n' R&B fusion of Sly & the Family Stone, and in its follow-up, "Run Away Child, Running Wild." Whitfield showcases the vocal skills of every Temptation, and still more crossover hits through 1970 include "I Can't Get Next To You" (their second pop No. 1) and "Ball Of Confusion."
Motown puts a new spin on the Temptations with a chart-topping album of duets with Diana Ross & the Supremes, then showcases both acts in the company's first TV production, TCB (Takin' Care of Business), a ratings hit. Paul Williams leaves the group early in the 1970s, replaced by Richard Street, onetime member of the Distants. Eddie Kendricks quits, too, but only after his featherlight falsetto takes "Just My Imagination (Running Away With Me)" to No. 1. Eddie is succeeded by Ricky Owens, and then Damon Harris.
Together with Norman Whitfield, his co-writer, Barrett Strong, and arranger Paul Riser, the Temptations earn Grammy awards for 1972's cinematic soul saga, "Papa Was A Rollin' Stone." It is the quintet's second trip to the prize podium: four years earlier, "Cloud Nine" was Motown's first recording to grab a Grammy. All Directions, the album in which "Papa…" rolls, is their biggest seller, save for TCB.
The late '70s sees the group join Atlantic Records, but come the new decade, they are back at Motown with a hit ("Power") co-written and produced by the boss, Berry Gordy. In 1982, Eddie Kendricks and David Ruffin reunite temporarily with the group for an album and tour. During the following year's Motown 25 TV spectacular, the Temptations and the Four Tops battle in song, an inspired match which leads the two groups to tour together for years.
In 1991, the Temptations' triumphs are signified by Rod Stewart's Top 10 hit, "The Motown Song" (they sing along with the British star), and by the return of "My Girl" as the title tune of a $60 million Hollywood hit movie. In Britain, a reissue of the record hits No. 2. To close out the century, the Temptations' extraordinary story becomes an NBC-TV mini-series.
Over time, Temptations leave and are replaced, but the brotherhood endures. In 2013, they are honored with the Recording Academy's Lifetime Achievement Grammy © award. "Looking back," says founder member Otis Williams, "I could never have imagined where my life has taken me. I'm so proud of what the Temptations have achieved, and I'm grateful for every opportunity we've been so fortunate to receive. The music carries me." And, he might have added, it carries millions of fans around the world, to this day.